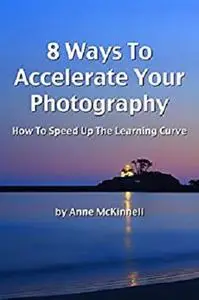 8 Ways To Accelerate Your Photography: How To Speed Up The Learning Curve by Anne McKinnell
English | February 4, 2013 | ISBN: N/A | ASIN: B00BB1RF78 | 135 pages | AZW3 | 3.34 Mb
Do you dream of being a great photographer but don't have enough time to learn everything?
To be a great photographer today there are so many different things to learn. It can be overwhelming!
The jobs that used to belong to lab technicians, marketers, web designers and business managers now belong to you!
It is hard to make progress in the limited time you have available when you are pulled in so many different directions. How far down each path you should go?
Written by
Canadian Pro Photographer
and
Author
Anne McKinnell, "8 Ways To Accelerate Your Photography" identifies
8 core knowledge areas
that are essential for today's photographer and shares the quickest and most effective techniques in each area so you can accelerate your learning curve.
Don't spend time learning the wrong stuff! In this eBook Anne shows you exactly what you need to know in each area:
- understand the
most useful camera settings
and when to use them;
- make
compelling photographs
that are more than snapshots;
- turn your photography into fine art with
post processing
;
- let the
quality of light
show you what kind of images to make;
- find your
niche
, your unique strengths and style;
- create a
killer portfolio
that gets attention;
- get your photography
on the web
and build your audience; and
-
make money
.
Learn the quickest and easiest techniques in each of the 8 core knowledge areas to jump start your photography!
This eBook is easy to digest and explains the concepts without using "techno-lingo."
In 4 years Anne went from buying her first DSLR to having a large audience online, a popular and successful blog, and images in and on the cover of magazines and photography books.
Now a full-time nomadic photographer, Anne travels around North America practicing her photography skills and experimenting with different techniques. She has explored the land as well as the vast array of skills you need to become a photographer today. In this eBook she shares those skills with you so your rise to photography success will be even faster.
You need each piece of the puzzle.
Perhaps you're not an amateur photographer but you don't know how to get a website going and build an audience. Or perhaps you are marketing wiz but you don't know how to use your camera. To be successful as a photographer today you need all the pieces of the puzzle to fit together.
Don't leave great photographs for some day!
"8 Ways To Accelerate Your Photography" features a collection of 72 inspiring photographs and 17,500 words of great tips and insight.
UPDATE: This deluxe edition of the eBook has 35 additional photos!