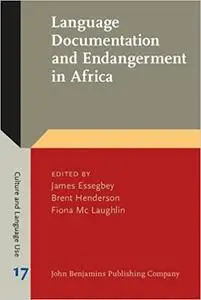 James Essegbey, Brent Henderson, Fiona Mc Laughlin, "Language Documentation and Endangerment in Africa"
English | 2015 | pages: 324 | ISBN: 9027244529 | PDF | 3,1 mb
This volume brings together a number of important perspectives on language documentation and endangerment in Africa from an international cohort of scholars with vast experience in the field. Offering insights from rural and urban settings throughout the continent, these essays consider topics that range from the development of a writing system to ideologies of language endangerment, from working with displaced communities to the role of colonial languages in reshaping African repertoires, and from the insights of archeology to the challenges of language documentation as a doctoral project. The authors are concerned with both theoretical and practical aspects of language documentation as they address the ways in which the African context both differs from and resembles contexts of endangerment elsewhere in the world. This volume will be useful to fieldworkers and documentalists who work in Africa and beyond.
My Link