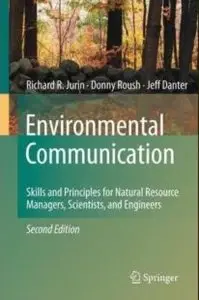 Richard R. Jurin, Donny Roush, K. Jeffrey Danter, "Environmental Communication. Second Edition: Skills and Principles for Natural Resource Managers, Scientists, and Engineers"
S/g/r | ISBN: 9048139864 | edition 2010 | PDF | 315 pages | 3,72 mb
Environmental professionals can no longer simply publish research in technical journals. Informing the public is now a critical part of the job. Environmental Communication demonstrates, step by step, how it's done, and is an essential guide for communicating complex information to groups not familiar with scientific material. It addresses the entire communications process, from message planning, audience analysis and media relations to public speaking - skills a good communicator must master for effective public dialogue. Environmental Communication provides all the knowledge and tools you need to reach your target audience in a persuasive and highly professional manner.
"This book will certainly help produce the skills for environmental communications sorely needed for industry, government and non-profit groups as well as an informed public". Sol P. Baltimore, Director, Environmental Communications and Adjunct faculty, Hazardous Waste management program, Department of Chemical Engineering, College of Engineering, Wayne State University, Detroit, Michigan.
"All environmental education professionals agree that the practice of good communications is essential for the success of any program. This book provides practical skills for this concern". Ju Chou, Associate Professor, Graduate Institute of Environmental Education National Taiwan Normal University Taipei, Taiwan
Note 1
: If you can not open the downloaded file, and your Adobe Reader reports on the damaged file, then
update
your Adobe Reader. Lastest version of Adobe Reader opens this book perfectly.
Note 2
: Links not work? Send me
PM
and I'll try to help you.