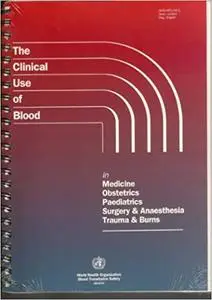 World Health Organization, World Health Organization Blood Transfusion Safety, "The Clinical Use of Blood in Medicine, Obstetrics, Paediatrics, Surgery and Anaesthesia and Burns"
English | 2001 | ISBN: 9241545380 | 219 pages | True PDF | 1.6 MB
Blood transfusion is an essential part of modern health care. Used correctly, it can be a life-saving intervention. Inappropriate use can endanger life because of the potential risk of acute or delayed complications, including the transmission of infectious agents, such as HIV, hepatitis viruses, syphilis, malaria and Chagas disease. The decision to transfuse blood or blood products should therefore always be based on a careful assessment of clinical and laboratory indications that transfusion is necessary to save life or prevent significant morbidity.
The Clinical Use of Blood is an accessible learning tool that will assist prescribers of blood to make appropriate clinical decisions on transfusion and contribute to wider efforts to minimize the unnecessary use of blood and blood products. It has been prepared by an international team of clinical and blood transfusion specialists and has been extensively reviewed by relevant WHO departments and critical readers from a range of specialists from all regions of the world.
This module has been developed for prescribers of blood at all levels of the health system, particularly clinicians and senior paramedical staff at first referral level (district hospitals) in developing countries. It has been designed for use in undergraduate and postgraduate programs, in-service training and continuing medical education programs, but can also be used for independent study. Its interactive style, with learning objectives, activities and case studies, encourages users to focus on the use of transfusion in their own clinical environment and promotes the development of local guidelines on clinical blood usage. Key points, tables and algorithms are highlighted for easy reference and a comprehensive index is included.
Part 1: Principles, Products and Procedures introduces the principles of the appropriate use of blood and outlines the characteristics and indications for use of intravenous replacement fluids, whole blood, blood components and plasma derivatives. It also provides a detailed guide to clinical transfusion procedures and the recognition and management of transfusion reactions.
Part 2: Transfusion in Clinical Practice summarizes factors to consider in making clinical decisions on transfusion and provides comprehensive guidance on transfusion and alternatives to transfusion in the areas of general medicine, obstetrics, pediatrics & neonatology, surgery & anesthesia, trauma & acute surgery, and burns.
Part 3: The Appropriate Use of Blood - Putting It into Practice explores how individual clinicians and blood transfusion specialists can make a practical contribution to achieving the appropriate use of blood, both within their own hospitals and more widely.
A companion handbook contains a summary of key information from the module to provide a quick reference when an urgent decision on transfusion is required.