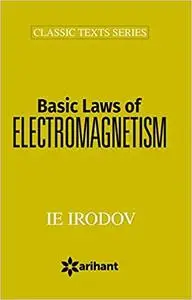 I E Irodov, "Basic Laws of Electromagnetism"
English | 2004 | ISBN: 9350943182, 8123903065 | 300 pages | PDF | 11.8 MB
Key Features: Physical aspects of the phenomena are clearly explained. Multiple model representations are employed as per necessity. Problems complementing the text are extensively given. About the Book: 'Basic Laws of Electromagnetism' is a book describing the Fundamental Laws of Electromagnetism with allied examples to help and enable the readers to attain a deeper understanding of the subject and visualize the wide range of applications of the ideas discussed.The book lays emphasis on the physical aspects of the phenomena, avoiding superfluous mathematical formulae.The textbook is quite handy for the students of senior secondary and undergraduate levels, and also for various engineering and medical entrance examinations. This is newly typeset print of a 'Classical Book' in Physics.