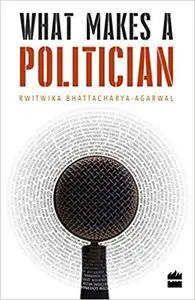 Rwitwika Bhattacharya-Agarwal, "What Makes a Politician"
ISBN: 9352772725 | 2017 | EPUB | 172 pages | 2 MB
I could do a much better job than them! How do such incompetent people make it in politics? How many times have these thoughts gnawed at your insides as you flipped through the news and suffered through the actions and opinions of the smack-talking, ethnic-clothes wearing, angry politicians on screen? Well, the fact is, every seemingly incompetent politician has a set of characteristics which makes them, in fact, very capable. The winds are shifting and politics needs young and talented people like you. Learn about why some party workers get a ticket and others don t, what skillsets you need to navigate politics, whether money is more important than the motivation to give back to society and, most importantly, from where one can start. We live in a time of drastically changing political environments and alliances, and What Makes a Politician provides insights into how to enter and thrive in politics, ethically and effectively. Political parties need to rethink their approach to politics and there is indication that several of them are already doing so. This book is for young, ambitious professionals who wish to enter politics and for people who seek to satisfy their curiosity about politics and governance.