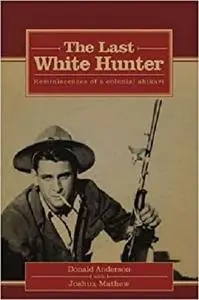 THE LAST WHITE HUNTER: Reminiscences of a colonial shikari by Joshua Mathew
English | ISBN: 9385509128 | 208 pages | EPUB | March 1, 2018 | 7.67 Mb
Kenneth Anderson, a contemporary of Jim Corbett, lived in Bangalore and wrote books on shooting man-eating tigers and panthers in south India. Donald, his son was arguably the last of the hunters of the British Raj and this is his story. The book poignantly captures the changing landscape around him, both in the jungles of south India, as well as in urban Bangalore. A faithful rendering of the life of a shikari, it is part adventure story, part social history and a nostalgic narrative of an often forgotten, bygone era.
"The book is evocative of another era and brings to life Donald Anderson's story in a Bangalore that is no more. Times change, and Donald may not have achieved the fame his father attained; but his story is interesting in its own way, and Joshua Mathew does justice to his subject in a fair, sympathetic and very readable biography." — Ruskin Bond