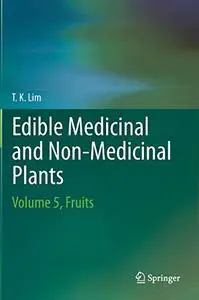 Edible Medicinal And Non-Medicinal Plants: Volume 5, Fruits by T. K. Lim
English | PDF | 2013 | 954 Pages | ISBN : 9400756526 | 17.1 MB
This book continues as volume 5 of a multi-compendium on Edible Medicinal and Non-Medicinal Plants. It covers edible fruits/seeds used fresh, cooked or processed into other by-products, or as vegetables, cereals, spices, stimulant, edible oils and beverages. It covers selected species from the following families: Apiaceae, Brassicaceae, Chenopodiaceae, Cunoniaceae, Lythraceae, Papaveraceae, Poaceae, Polygalaceae, Polygonaceae, Proteaceae, Ranunculaceae, Rhamnaceae, Rubiaceae, Salicaceae, Santalaceae, Xanthorrhoeaceae and Zingiberaceae.
The edible species dealt with in this work include to a larger extent lesser-known, wild and underutilized crops and also common and widely grown crops. To help in identification of the plant, edible parts and food products about 200 coloured illustrations are included.
As in the preceeding four volumes, topics covered include: taxonomy (botanical name and synonyms); common English and vernacular names; origin and distribution; agro-ecological requirements; edible plant parts and uses; plant botany; nutritive, medicinal and pharmacological properties with up-to-date research findings; traditional medicinal uses; other non-edible uses; and selected/cited references for further reading. This volume has separate indices for scientific and common names; and separate scientific and medical glossaries.
Please Please :( We Are Here For You And Without You And Your

Support

We Can't Continue
Thanks For Buying Premium From My Links For

Support
i will be very grateful when you

support

me and buy Or Renew Your Premium from my Blog links
i appreciate your

support

Too much as it will help me to post more and moreWithout You And Your

Support

We Can't Continue
Thanks For Buying Premium From My Links For

Support