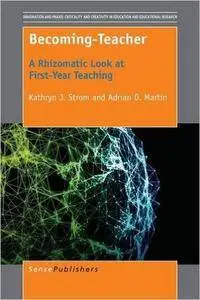 Kathryn J. Strom and Adrian D Martin, "Becoming-Teacher: A Rhizomatic Look at First-Year Teaching"
English | ISBN: 9463008705, 9463008713 | 2017 | 154 pages | PDF | 5 MB
Dominant conceptions in the field of education position teacher development and teaching as linear, cause and effect transactions completed by teachers as isolated, autonomous actors. Yet rhizomatics, an emergent non-linear philosophy created by Gilles Deleuze and Felix Guattari, offers a perspective that counters these assumptions that reduce the complexity of classroom activity and phenomena. In Becoming-Teacher: A Rhizomatic Look at First-Year Teaching, Strom and Martin employ rhizomatics to analyze the experiences of Mauro, Bruce, and June, three first-year science teachers in a highly diverse, urban school district. Reporting on the ways that they constructed their practices during the first several months of entry into the teaching profession, authors explore how these teachers negotiated their pre-professional learning from an inquiry and social-justice oriented teacher residency program with their own professional agendas, understandings, students, and context. Across all three cases, the work of teaching emerged as jointly produced by the activity of multiple elements and simultaneously shaped by macro- and micropolitical forces. This innovative approach to investigating the multiple interactions that emerge in the first year of teaching provides a complex perspective of the role of preservice teacher learning and the non-linear processes of becoming-teacher. Of interest to teachers, teacher educators, and education researchers, the cases discussed in this text provide theoretically-informed analyses that highlight means of supporting teachers in enacting socially-just practices, interrupting a dominant educational paradigm detrimental to students and teachers, and engaging with productive tools to theorize a resistance to the neoliberal education movement at the classroom level.