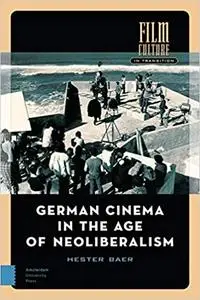 German Cinema in the Age of Neoliberalism (Film Culture in Transition) by Hester Baer
English | Mar 11, 2021 | ISBN: 9463727337 | 320 pages | PDF | 4 MB
This book presents a new history of German film from 1980-2010, a period that witnessed rapid transformations, including intensified globalization, a restructured world economy, geopolitical realignment, and technological change, all of which have affected cinema in fundamental ways. Rethinking the conventional periodization of German film history, Baer posits 1980-rather than 1989-as a crucial turning point for German cinema's embrace of a new market orientation and move away from the state-sponsored film culture that characterized both DEFA and the New German Cinema. Reading films from East, West, and post-unification Germany together, Baer argues that contemporary German cinema is characterized most strongly by its origins in and responses to advanced capitalism. Informed by a feminist approach and in dialogue with prominent theories of contemporary film, the book places a special focus on how German films make visible the neoliberal recasting of gender and national identities around the new millennium.
My nickname -
interes