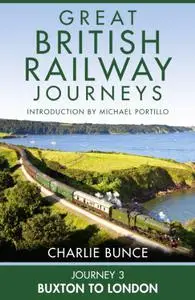 Charlie Bunce, Michael Portillo, "Journey 3: Buxton to London"
English | 2013 | ASIN: B009QU6ZE0 | 256 pages | EPUB | 0.97 MB
A glorious insight into the history, landscape and people of Britain, from The Sunday Times bestseller.
One of the earliest railway freight routes in Britain, the Buxton to London line was built to whisk goods to the nation's capital. Starting at the elegant spa town of Buxton, Michael Portillo travels through Britain's industrial heartland, visiting the site of Awkwright's first mill at Cromford, the home of brewing, Burton-on-Trent, and Bournville, forever associated with chocolate. His final destination is the newly-restored St Pancras Station, flanked by the extravagantly Gothic Midland Grand Hotel.
Places visited: Buxton, Dark Peak, Matlock Bath, Cromford, Derby, Burton-on-Trent, Walsall, Birmingham, Bournville, Coventry, Aylesbury, Watford and London.
This individual journey is one of a series taken from the bestselling books Great British Railway Journeys and Great Victorian Railway Journeys that accompany the highly successful BBC Two series. Michael Portillo follows the famous George Bradshaw railway guides in railway journeys across the length and breadth of the country, discovering spectacular scenery and stunning architecture and exploring local history and industry.