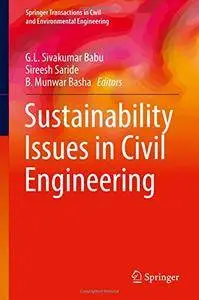 Sustainability Issues in Civil Engineering (Springer Transactions in Civil and Environmental Engineering) by G.L. Sivakumar Babu
English | 2017 | ISBN: 9811019282 | 367 Pages | PDF | 16.88 MB
This compilation on sustainability issues in civil engineering comprises contributions from international experts who have been working in the area of sustainability in civil engineering. Many of the contributions have been presented as keynote lectures at the International Conference on Sustainable Civil Infrastructure (ICSCI) held in Hyderabad, India.
The book has been divided into core themes of Sustainable Transportation Systems, Sustainable Geosystems, Sustainable Environmental and Water Resources and Sustainable Structural Systems. Use of sustainability principles in engineering has become an important component of the process of design and in this context, design and analysis approaches in civil engineering are being reexamined to incorporate the principles of sustainable designs and construction in practice. Developing economies are on the threshold of rapid infrastructure growth and there is a need to compile the developments in various branches of civil engineering and highlight the issues. It is this need that prompted the composition of this book. The contents of this book will be useful to students, professionals, and researchers working on sustainability related problems in civil engineering. The book also provides a perspective on sustainability for practicing civil engineers who are not directly researching the problems but are affected by the concerns in the course of their profession. The book can also serve to highlight to policy makers and governing bodies the need to have a mandate for sustainable infrastructural development.