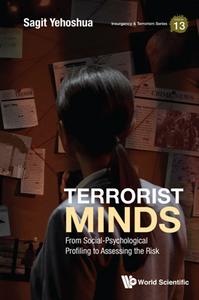 Terrorist Minds : From Social-Psychological Profiling To Assessing The Risk
by Sagit Yehoshua
English | 2021 | ISBN: 9811210179 | 316 Pages | PDF | 18 MB
Terrorist Minds: From Social-Psychological Profiling to Assessing the Risk explores the process of terrorist behavioural analysis, from the social-psychological profiling of terrorists to the development of risk assessment tools. Most of the research for this book was conducted in cooperation with the Intelligence Department of the Israeli Prison Service via qualitative, in-depth interviews with leaders of terrorist organisations in Israeli prisons. Once social-psychological profiles were established, terrorist risk assessment tools were developed to allow for better observation and practical management of associated problems.This book fills the gaps in existing literature on the psychology of imprisoned terrorist group leaders through the analysis of individuals' social, professional and personal lives, as well as their attitudes and perceptions. The book also covers the practical aspects of risk assessment based on social-psychological profiling, and discusses relevant tools that have been developed in recent years. It aims to better inform counter-terrorism initiatives and policymaking, as well as improve methods of communication, counter-terrorism, and conflict resolution.
If you want to support my blog, then you can buy a premium account through any of my files (i.e. on the download page of my book). In this case, I get a percent of sale and can continue to delight you with new books!