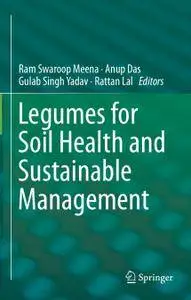 Legumes for Soil Health and Sustainable Management by Ram Swaroop Meena
English | PDF,EPUB | 2018 | 541 Pages | ISBN : 9811302529 | 44.94 MB
Sustainable management of soils is an important global issue of the 21st century. Feeding roughly 8 billion people with an environmentally sustainable production system is a major challenge, especially considering the fact that 10% of the world's population at risk of hunger and 25% at risk of malnutrition. Accordingly, the 68th United Nations (UN) general assembly declared 2016 the "International Year of Pulses" to raise awareness and to celebrate the role of pulses in human nutrition and welfare. Likewise, the assembly declared the year 2015 as the "International Year of Soils" to promote awareness of the role of "healthy soils for a healthy life" and the International Union of Soil Science (IUSS) has declared 2015-2024 as the International Decade of Soils.
Including legumes in cropping systems is an important toward advancing soil sustainability, food and nutritional security without compromising soil quality or its production potential. Several textbooks and edited volumes are currently available on general soil fertility or on legumes but' to date' none have been dedicated to the study of "Legumes for Soil Health and Sustainable Management". This is important aspect, as the soil, the epidermis of the Earth (geoderma)' is the major component of the terrestrial biosphere. This book explores the impacts of legumes on soil health and sustainability, structure and functioning of agro-ecosystems, agronomic productivity and food security, BNF, microbial transformation of soil N and P, plant-growth-promoting rhizobacteria, biofertilizers, etc.
With the advent of fertilizers, legumes have been sidelined since World War II, which has produced serious consequences for soils and the environment alike. Therefore, legume-based rational cropping/soil management practices must support environmentally and economically sustain­able agroecosystems based on (sequential) rotation and intercropping considerations to restore soil health and sustainability. All chapters are amply illustrated with appropriately placed data, tables, figures, and photographs, and supported with extensive and cutting-edge references. The editors have provided a roadmap for the sustainable development of legumes for food and nutritional security and soil sustainability in agricultural systems, offering a unique resource for teachers, researchers, and policymakers, as well as undergraduate and graduate students of soil science, agronomy, ecology, and the environmental sciences.
Without You And Your

Support

We Can't Continue
Thanks For Buying Premium From My Links For

Support