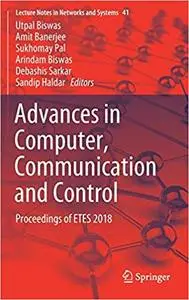 Utpal Biswas and Amit Banerjee, "Advances in Computer, Communication and Control: Proceedings of ETES 2018"
English | ISBN: 9811331219 | 2019 | 588 pages | PDF, EPUB | 127 MB
The book discusses the recent research trends in various sub-domains of computing, communication and control. It includes research papers presented at the First International Conference on Emerging Trends in Engineering and Science. Focusing on areas such as optimization techniques, game theory, supply chain, green computing, 5g networks, Internet of Things, social networks, power electronics and robotics, it is a useful resource for academics and researchers alike.