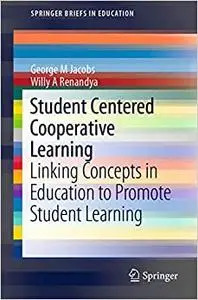 George M Jacobs, Willy A Renandya, "Student Centered Cooperative Learning: Linking Concepts in Education to Promote Student Learning"
English | 2019 | ISBN: 9811372128 | PDF | pages: 142 | 1.7 mb
This book helps teachers understand the links between cooperative learning (also known as collaborative learning and peer learning) and other student-centered approaches. It discusses cooperative learning and communities of practice; cooperative learning and neuroscience; cooperative learning and critical thinking; cooperative learning and alternative assessment; cooperative learning and multiple intelligence; cooperative learning and positive education; cooperative learning and meeting the needs of introverts; and cooperative learning and justice issues, with each chapter exploring a different aspect of how education can be student centered.
If you are looking for a fresh perspective on cooperative learning, this book is for you. It helps you explore how cooperative learning is so much more than just asking students to arrange themselves in a group, and considers how cooperative learning can fit with other areas of education that you care about. 
Although the two authors both completed their PhDs in the West, they have taught in Asia for the past 25+ years, working with students and teachers from a wide variety of Asian and other countries, and with teachers from a very wide variety of content areas who teach students of many different ages.