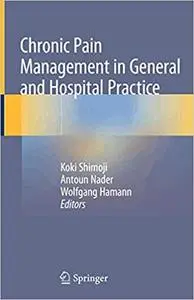 Koki Shimoji, "Chronic Pain Management in General and Hospital Practice"
English | ISBN: 9811529329 | 2021 | 559 pages | PDF | 13 MB
This book covers a range of topics, from the cause and identity of pain, to pain relief management. Starting from the mechanism of pain, it continues to pain management techniques such as nerve blocks, drugs (pain killers), noninvasive manipulations psychological techniques and electric management, before describing the management of various painful conditions such as headaches, back pain, extremities pain, post-herpetic pain or complex regional pain syndrome. It also provides the format of case reports which can be used to explain management options. A novel feature of the book is that it provides additional insights into how clinicians involve patients in treating their own pain through guided self-assessment and self-management. Recent studies have revealed that pain is not only a biological alarm that warns of disease, but can also be the disease itself, or the catalyst of a vicious circle of pain and disease. Providing rapid pain relief is often effective in sparking the rapid recovery from various diseases. This book offers the perfect guide for all clinicians, not only those working at pain clinics but all those who have to treat patients who are in pain.