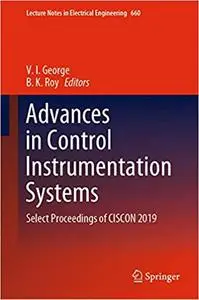 V. I. George, "Advances in Control Instrumentation Systems: Select Proceedings of CISCON 2019 (Lecture Notes in Electrical Engineering "
English | ISBN: 9811546754 | 2020 | 290 pages | EPUB, PDF | 60 MB + 13 MB
This book comprises select peer-reviewed proceedings of the Control Instrumentation System Conference (CISCON 2019) in the specialized area of cyber-physical systems. The topics include current trends in the areas of instrumentation, sensors and systems, industrial automation and control, image and signal processing, robotics, renewable energy, power systems and power drives, and artificial intelligence technologies. Wide-ranging applications in various fields such as aerospace, biomedical, optical imaging and biomechanics are covered in the book. The contents of this book are useful for students, researchers as well as industry professionals working in the field of instrumentation and control engineering.