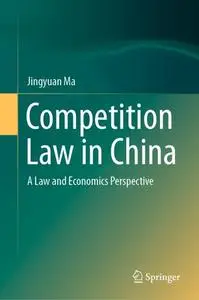 Competition Law in China: A Law and Economics Perspective by Jingyuan Ma
English | PDF,EPUB | 2020 | 286 Pages | ISBN : 9811551049 | 8.27 MB
This book offers a comprehensive introduction to the developmental history and structural framework of Chinese competition law from a law and economics perspective. It examines the philosophical foundations, the substantive law, and enforcement issues concerning competition law and policy in China by pursuing an economic and comparative approach. Further, the book presents and analyzes competition cases involving monopolistic agreements, abuse of dominant position, and concentration.
The book will help professionals and business practitioners to understand the distinct features of competition law and policy in China, and how the substance and enforcement of the law can be compared with competition regulations in the US and EU from an economic perspective. Given its scope, it offers a valuable guide for academic, public sector and professional audiences alike, and will appeal to researchers, students and anyone with an interest in economic law and policy in China.
The book can also be used as reading material to accompany courses such as China's Competition Law and Policy, Comparative Competition Law, and Market Regulation in China for foreign students studying Chinese law and policy at the undergraduate, graduate and doctoral levels.
i will be very grateful when you

support

me and buy Or Renew Your Premium from my Blog links
i appreciate your

support

Too much as it will help me to post more and moreWithout You And Your

Support

We Can't Continue
Thanks For Buying Premium From My Links For

Support