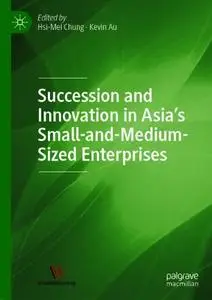 Succession and Innovation in Asia's Small-and-Medium-Sized Enterprises by Hsi-Mei Chung
English | PDF,EPUB | 2021 | 429 Pages | ISBN : 9811590141 | 30 MB
This book documents the distinctive experiences and challenges of Small and medium-sized enterprises (SMEs) in Asia. By assessing succession and innovation in SMEs as the two sides of a coin, this book explains how innovations are essential to SMEs in succession. With detailed case examples, the book provides generalized solutions for SMEs to answer the question of how to make succession and innovation simultaneously successful.
The authors discuss the potential solutions to solve the challenges of SMEs on succession and innovation by considering the utilization of the capital market, the electronic commerce strategy, the international strategy, and angel investment to pursue portfolio entrepreneurship, and compare these Asia solutions to the experiences from Europe. The book is recommended for family business and SME owners, professionals serving these firms, and the consulting firms that work on continuity issues of SMEs in Asia.
Hsi-Mei CHUNG is a Professor at the Department of Business Administration, I-Shou University, Taiwan. Her research interests include strategic and governance issues of family business groups and family businesses, antecedents and consequences of the Chinese relationships network, etc. She now serves as the Co-Editor with Hung-bin Ding, Andy Yu, & Phillip Phan on a book, Research on Innovation in Asian Family Enterprises, The Johns Hopkins University series on Entrepreneurship.
Kevin AU co-founded the CUHK Center for Family Business and serves as its Director. His research interests are international management, entrepreneurship, family business, and social network. He is authors of several books such as "Family Enterprising in Asia: Exploring Transgenerational Entrepreneurship in Family Firms."
Please Please :( We Are Here For You And Without You And Your

Support

We Can't Continue
Thanks For Buying Premium From My Links For

Support
i will be very grateful when you

support

me and buy Or Renew Your Premium from my Blog links
i appreciate your

support

Too much as it will help me to post more and moreWithout You And Your

Support

We Can't Continue
Thanks For Buying Premium From My Links For

Support