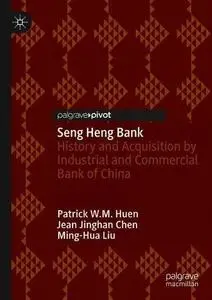 Seng Heng Bank: History and Acquisition by Industrial and Commercial Bank of China by Patrick W.M. Huen

English | EPUB | 2021 | 122 Pages | ISBN : 9811603979 | 4.9 MB
This book examines the success story of Seng Heng Bank (SHB), the successful acquisition of SHB by Industrial and Commercial Bank of China (ICBC), and the continuing sound management and performance of ICBC (Macau).
It shows how a loss-making small bank grew into one of the best banks in Macao and highlights the achievement, awards, and recognition of SHB. The authors detail the SHB acquisition process by ICBC, the biggest bank in the world in terms of total assets. They identify the main contributing factors for the success of SHB and draw conclusions and implications for bank managers in the region and beyond. This book will be of interest to finance professionals and business scholars.
Mr Patrick W.M. Huen is Vice-Chairman and Executive Director of ICBC (Macau) and was CEO of Seng Heng Bank before its acquisition by ICBC. He is also 2nd Vice Chair of the University Council of University of Macau and Chairman of the Board of Directors of Dr. Stanley Ho Medical Development Foundation.
Dr Jean Jinghan Chen is a Chair Professor in Accounting and Finance and the Dean of Faculty of Business Administration at the University of Macau. She held a Chair Professor in the University of Surrey and the University of Southampton, the UK., and has published over 100 articles in leading international academic journals and several books.
Dr Ming-Hua Liu is an associate professor of finance at University of Macau. He had taught at Nanyang Technological University, Singapore and AUT University, New Zealand before. He was an assistant vice president of DBS Bank in Singapore. He has received awards in teaching, research and services.