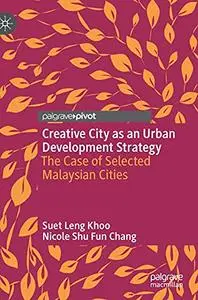 Creative City as an Urban Development Strategy: The Case of Selected Malaysian Cities by Suet Leng Khoo
English | PDF,EPUB | 2021 | 216 Pages | ISBN : 9811612900 | 23.1 MB
"This compendium is an invaluable read for urban geographers/planners. The Malaysian government has formulated a set of strategies to enhance urban development and the role of cities. This book contributes profoundly to this objective. It rises above previous work on competitive cities in Malaysia in terms of detail and richness of local knowledge."
—Morshidi Sirat, Professor of Urban Geography, Universiti Sains Malaysia
"Ipoh is synonymous with an ideal retirement city and old town for many people. In fact, its rich history and cultural heritage lay good potential and endless possibilities for urban regeneration. This book is definitely providing a timely analysis and insightful perspective for us to understand more about this former tin mining city, and on efforts to develop it towards a creative city."
—Tan Kar Hing, former Perak state's executive member for Tourism, Arts and Culture
This book is a pioneering work to position the creative city concept within Malaysian urban development discourse. The chapters are written and systematically sequenced to be all-encompassing and comprehensible to audiences both from the academic and non-academic realms. The nascency of creative city development in Malaysia has motivated the timely exploration of the viability of this strategy for selected Malaysian cities (i.e. Kuala Lumpur, George Town, Ipoh, Johor Bahru). The book also discusses the global discourse on creative city and its critiques. This is followed by an overview of Malaysia's macrolevel socio-economic and political structures as well as national policies to frame the Malaysian creative city narrative. The case study chapters are novel, as each Malaysian city unravels its unique experiences and dissects the way the city responds to the creative city agenda amidst local nuances and idiosyncrasies.
Suet Leng Khoo, Associate Professor at Universiti Sains Malaysia, has been involved in research related to creative cities for ten years. She has undertaken research projects funded by the Sumitomo Foundation and also the Newton Fund. Suet Leng has published extensively on creative cities in both international and local journals.
Nicole Shu Fun Chang studied the contributions of the art sector as part of the creative economy in local economic development for her PhD research. Her research examined the potential of the art sector, focusing on the visual arts industry as one of the core creative industries, in developing a creative city.
Please Please :( We Are Here For You And Without You And Your

Support

We Can't Continue
Thanks For Buying Premium From My Links For

Support
i will be very grateful when you

support

me and buy Or Renew Your Premium from my Blog links
i appreciate your

support

Too much as it will help me to post more and moreWithout You And Your

Support

We Can't Continue
Thanks For Buying Premium From My Links For

Support