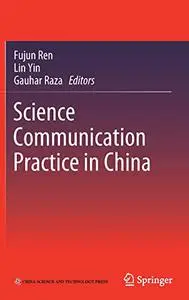 Science Communication Practice in China by Fujun Ren
English | EPUB | 2022 | 347 Pages | ISBN : 9811632022 | 1.6 MB
China has made remarkable and rapid progress in the area of science communication, both in theory and practice. This book critically examines all aspects of science communication practices in China. Dealing with major turning points since the introduction of the 'Science and Technology Popularization Law' and the 'Outline of the National Scheme for Scientific Literacy', the book tells a success story by scrutinizing structural changes in science communication policies, education system, construction and efficacious utilisation of science popularisation facilities, and creative use of a mix of traditional and modern channels of communication. The book also gives an in-depth analysis of the monitoring and evaluation mechanism, which constitutes the backbone of the national science communication project.
The historical roots of science communication in China include shifts in methodologies, policy instruments, effectual approaches and resultant practices since the days of initial efforts to popularise modern scientific ideas. However, the primary focus of the book remains on the initiatives launched at the turn of the present century. Without losing sight of the national dimensions, each chapter of the book draws from provincial as well as grassroots level experiences. Quantitative and qualitative methods have been used to analyse strengths, weaknesses, hurdles and the efficacy of corrective measures.
This book offers a remarkable insight to anyone who is interested in probing the causal relationship between science communication and China's transformation into a modern society. The primary objective of the book is to analyse the nature of 'science communication with Chinese characteristics' and the specificity of the socio-cultural environment in which Science and Technology is located. Though the book is of particular interest to scholars, researchers, students and practitioners of science communication, the narrative style makes it accessible to the general reader who is interested in science-society relationship.
Without You And Your

Support

We Can't Continue
Thanks For Buying Premium From My Links For

Support