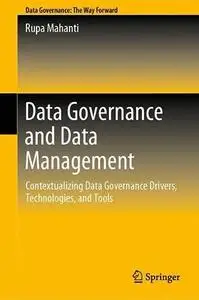 Data Governance and Data Management: Contextualizing Data Governance Drivers, Technologies, and Tools by Rupa Mahanti
English | PDF,EPUB | 2021 | 218 Pages | ISBN : 981163582X | 29.5 MB
This book delves into the concept of data as a critical enterprise asset needed for informed decision making, compliance, regulatory reporting and insights into trends, behaviors, performance and patterns. With good data being key to staying ahead in a competitive market, enterprises capture and store exponential volumes of data. Considering the business impact of data, there needs to be adequate management around it to derive the best value.
Data governance is one of the core data management related functions. However, it is often overlooked, misunderstood or confused with other terminologies and data management functions. Given the pervasiveness of data and the importance of data, this book provides comprehensive understanding of the business drivers for data governance and benefits of data governance, the interactions of data governance function with other data management functions and various components and aspects of data governance that can be facilitated by technology and tools, the distinction between data management tools and data governance tools, the readiness checks to perform before exploring the market to purchase a data governance tool, the different aspects that must be considered when comparing and selecting the appropriate data governance technologies and tools from large number of options available in the marketplace and the different market players that provide tools for supporting data governance.
This book combines the data and data governance knowledge that the author has gained over years of working in different industrial and research programs and projects associated with data, processes and technologies with unique perspectives gained through interviews with thought leaders and data experts. This book is highly beneficial for IT students, academicians, information management and business professionals and researchers to enhance their knowledge and get guidance on implementing data governance in their own data initiatives.
Rupa Mahanti, Ph.D. is a Business and Information Management consultant and has worked in different solution environments, industries and geographies. She helps clients with activities such as business process improvement, information management (such as DQ, DG, etc.), strategy and more. She is an associate editor at Software Quality Professional, and the author of Data Quality.