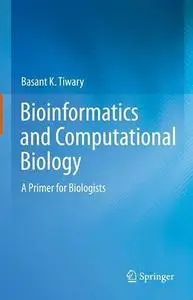 Bioinformatics and Computational Biology: A Primer for Biologists by Basant K. Tiwary
2022 | ISBN: 9811642400 | English | 245 pages | EPUB | 29 MB
This textbook introduces fundamental concepts of bioinformatics and computational biology to the students and researchers in biology, medicine, veterinary science, agriculture, and bioengineering . The respective chapters provide detailed information on biological databases, sequence alignment, molecular evolution, next-generation sequencing, systems biology, and statistical computing using R. The book also presents a case-based discussion on clinical, veterinary, agricultural bioinformatics, and computational bioengineering for application-based learning in the respective fields. Further, it offers readers guidance on reconstructing and analysing biological networks and highlights computational methods used in systems medicine and genome-wide association mapping of diseases.
Given its scope, this textbook offers an essential introductory book on bioinformatics and computational biology for undergraduate and graduate students in the life sciences, botany, zoology, physiology, biotechnology, bioinformatics, and genomic science as well as systems biology, bioengineering and the agricultural, and veterinary sciences.