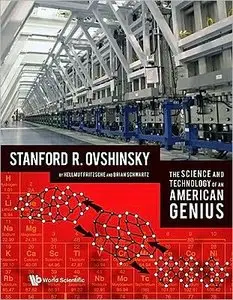 Hellmut Fritzsche "The Science And Technology Of An American Genius: Sanford R. Ovshinsky"
World Scientific Pub Co Inc | English | 2008-10-09 | ISBN: 9812818391 | 396 pages | PDF | 28,5 MB
This book highlights the achievements of the self-taught inventor, scientist, manufacturer and entrepreneur, Stanford R Ovshinsky. This remarkable individual could, without special training, compete with the well-funded establishments of learning and industry in the second half of the last century and leave us an incredible legacy of brilliant innovations with a lasting impact on our lives. His achievements extend over amazingly diverse fields and have or are prone to create new industries of great societal value.
The phase change memories of commonly used rewritable CDs and DVDs as well as of new flash memories are his invention; so are the Ni Metal hydride batteries which are the enabling batteries for electric and hybrid/electric vehicles. The future hydrogen economy will utilize his efficient and safe hydrogen storage alloys. He has developed light and ultralight photovoltaic solar panels for converting sunlight into electricity and built the largest manufacturing facility for thin film flexible solar roofing materials. A common theme of his inventions is the synthesis of new materials utilizing novel aspects of structural and compositional disorder.
The book explains for each of Ovshinsky s innovations the essence of his pioneering ideas and inventions. These introductions are followed by a selection of Ovshinsky s seminal publications and, for each subject category, a list of his patents which reveal the inventive mind of this unusually creative person. Ovshinsky s example of gaining a deep understanding of the science underlying his inventions, his perseverance as well as his ability to attract and inspire talented collaborators will be a role model for entrepreneurs of this century.
Contents: Stan Ovshinsky; New Science; Phase Change Memory; Conversion of Solar Energy: Photovoltaics; Batteries; Hydrogen Storage, Fuel Cells and the Hydrogen Energy Loop; Superconductivity; Other Topics of Interest.
To start download click HERE: