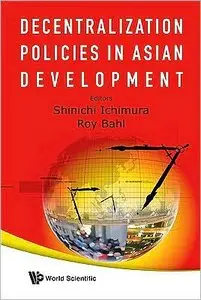 Shinichi Ichimura "Decentralization Policies in Asian Development"
World Scientific Publishing Company | English | 2008-12-29 | ISBN: 9812818634 | 440 pages | PDF | 1,9 MB
This book explores the important topic of fiscal decentralization in Asian countries, and focuses on how government finance and administration are being reformed to bring budgetary decisions closer to voters. The focus on Asia is especially important because all countries in this region have been undergoing serious fiscal reforms in the past decade. They include one of the biggest decentralization reforms in Indonesia, significant reforms in democratic Philippines and Vietnam which are in transition, and Japan, whose fiscal reconstruction program is covered extensively. India and China, which are also covered, are very special cases because of their size and because their policies must fit decentralization into a significant economic growth scenario.
Contents: Promise and Reality of Fiscal Decentralization (R Bahl); Political Decentralization in Asia: Case Studies/A Review of Decentralization:; Trinity Reform of Local Fiscal System in Japan (H Ikawa); Political Decentralization and Fiscal Reconstruction in Japan (T Ihori); China's Decentralization and Its Impact on Urbanization (X-J Zuo); Fiscal Federalism in India - Trends and Reform (M G Rao); Administrative Reform in Taiwan - An Uneasy and Unfinished Political Task (J N Shih); Decentralization in the Philippines After Ten Years - What Have We Learned? (B E Diokno); Thailand's Decentralization: Progress and Prospects (C Suwanmala & D Weist); Political and Administrative Decentralization in Vietnam (N K Hung); Managing Indonesia's Rapid Decentralization: Achievements and Challenges (W Fengler & B Hofman); The Reform of Local Public Finance:; The Reform of Japanese Local Governments (S Saito & H Yunoue); Local Public Finance in Taiwan: Reform and Trend (C-W Tseng & H-F Lee); The Revenue Performance of Malaysian Local Government (A Setapa & E Y S Lin); Local Public Finance in the Philippines - Balancing Autonomy and Accountability (R G Manasan).
To start download click HERE: