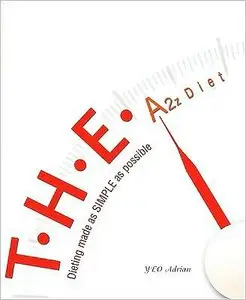 Adrian Yeo "T.H.E. A2z Diet: Dieting Made As Simple As Possible"
World Scientific Publishing | English | 2008-08-14 | ISBN: 9812834486 | 152 pages | PDF | 37,2 MB
This invaluable book explains, in simple language, why we overeat, and why we find food that is salty, fatty and sweet so tempting and addictive. It then zooms into the simplest and most basic principles of effective dieting, which the author himself has used over the past 25 years with success. The book distills only what is absolutely necessary.
Cutting through the mountain of information on dieting, nutrition and healthy living, this book makes the message and advice so simple and clear that even a child can understand and appreciate it, as well as put it into practice everyday. An FAQ section addresses the key questions that so often confuse dieters.
Incorporating a simple graphing record of daily progress, The A2z Diet will motivate those who desire a slimmer, healthier and fitter body to achieve the results that they seek.
To start download click HERE: