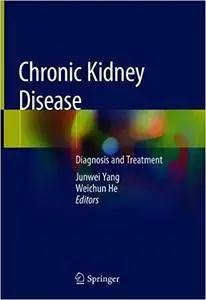 Junwei Yang, "Chronic Kidney Disease: Diagnosis and Treatment"
English | ISBN: 9813291303 | 2020 | 253 pages | PDF | 5 MB
This book provides a comprehensive and systematic review of the latest findings in a wide spectrum of clinically important aspects of chronic kidney disease (CKD), focusing on clinical diagnosis and therapeutics. CKD is a global health problem with a rising morbidity and mortality. The last decade has seen significant improvements in determining the incidence, prevalence, and complications of CKD, mainly thanks to the definitions of CKD developed by the National Kidney Foundation's Kidney Disease Outcomes Quality Initiative (K/DOQI). However, increased recognition of CKD has led to awareness of the limitations of its clinical diagnosis and treatment, which are essential to patients' wellbeing. This book is of particular value not only to nephrologists, but also to general practitioners and residents with an interest in CKD. It offers a well-organized exposition of the current knowledge base. Compared with previously published books on kidney disease and CKD, it has a smaller number of more concise chapters. As a result, readers can easily obtain an overview of the most important topics in CKD. We hope that practitioners will gain as much from reading this practical guide to clinical management of CKD as we have from editing it.