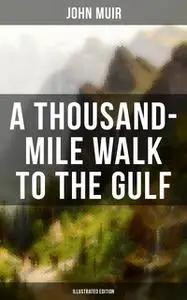 «A THOUSAND-MILE WALK TO THE GULF (Illustrated Edition)» by John Muir
English | EPUB | 2.7 MB
In September 1867, Muir undertook a walk of about 1,000 miles from Indiana to Florida, which he recounted in his book A Thousand-Mile Walk to the Gulf. He had no specific route chosen, except to go by the "wildest, leafiest, and least trodden way I could find". Earlier that year, an accident changed the course of his life when a tool he was using slipped and struck him in the eye. He was confined to a darkened room for six weeks, worried whether he would ever regain his sight. When he did, he saw the world and his purpose in a new light. Muir later wrote, "This affliction has driven me to the sweet fields. God has to nearly kill us sometimes, to teach us lessons." From that point on, he determined to be true to himself and follow his dream of exploration and study of plants.
John Muir (1838–1914) was a Scottish-American naturalist, author, environmental philosopher and early advocate of preservation of wilderness in the United States. His letters, essays, and books telling of his adventures in nature, especially in the Sierra Nevada mountains of California, have been read by millions. His activism helped to preserve the Yosemite Valley, Sequoia National Park and other wilderness areas. The Sierra Club, which he founded, is a prominent American conservation organization.