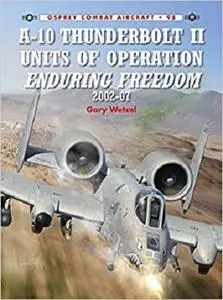 A-10 Thunderbolt II Units of Operation Enduring Freedom 2002-07 (Combat Aircraft) by Gary Wetzel
English | June 18, 2013 | ISBN: 1780963041 | 96 pages | PDF | 3.26 Mb
In the early 1970s, the USAF, still fresh in the mire of the Vietnam War, began the search for a more effective aircraft to conduct the CAS mission. With aircraft losses climbing, the need for an aircraft that could withstand punishment as well as deliver it was unmistakable. Looking at past experience in Southeast Asia as well as the present and future threat in Western Europe of a numerically superior Soviet Army, the USAF demanded that the new aircraft be built around a 30 mm cannon. Fairchild Republic won the resulting A-X competition in 1973 and General Electric was chosen the following year to build the jet's GAU-8 30 mm main gun. Some 715 A-10s were subsequently built between 1975 and 1984. The A-10 was never a favourite amongst the USAF's senior staff, and prior to Iraq's invasion of Kuwait in 1990 they had attempted to transfer the aircraft to the US Army and Marine Corps. Everything changed when Operation Desert Storm began, as the A-10 quickly showed what it was capable of. Reprieved from premature retirement, the A-10 would see combat in the Balkans during the mid-1990s and over Iraq in Operations Northern Watch and Southern Watch until Operation Iraqi Freedom began in 2003. Following the 11 September 2001 attacks in the United States, the Bush administration responded with the instigation of Operation Enduring Freedom in Afghanistan in October 2001. A-10 aircraft first entered the fray during Operation Anaconda in March 2002, flying first from an airfield in Pakistan and then from Bagram AB in Afghanistan. During Anaconda four A-10s flying from Pakistan provided 21 straight hours of FAC (A)/CAS coverage. Since then the flexibility of the A-10 has persisted, with units moving through airfields in Afghanistan under AEF deployments. This ongoing commitment has seen active duty, Reserve and Air National Guard squadrons rotating through Bagram and Kandahar airfields in support of Coalition forces in-theatre. The premier CAS aircraft in Afghanistan, the once disposable A-10 has become indispensable. With new upgrades, the 'digital' A-10C has seen its arsenal expanded to include the latest generation of ordnance. The untold story of the A-10 in Enduring Freedom will be explored and presented as never before through first hand interviews and photography from those involved, along with official military achieves. This title is the first of three planned covering the combat experience of the USAF's A-10 Thunderbolt II units. Follow-on volumes will examine the role of the Warthog during Operation Desert Storm and Operation Iraqi Freedom.
Feel Free to contact me for book requests, informations or feedbacks.
Without You And Your Support We Can't Continue
Thanks For Buying Premium From My Links For Support