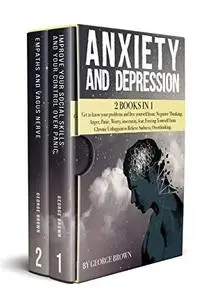 ANXIETY AND DEPRESSION -2 book in 1-: Get to know your problems and free yourself from: Negative Thinking, Anger, Panic, Worry, insecurity, fear, Freeing Yourself from Chronic Unhappiness by George Brown
English | September 24, 2020 | ISBN: N/A | ASIN: B08K41SZKC | 368 pages | EPUB | 0.36 Mb
Do you want to increase your knowledge?
Do you need to improve your health? What are empaths and how important is it to regulate your vagus nerve? How to solve panic attacks and depression?
Panic attacks come out of nowhere and include extraordinary and often overwhelming trepidation.
The most recent version of the Indicative and Measurable Manual of Mental Output (DSM-5) detects panic attacks and orders them as unexpected or expected. I wrote this book because I believe everyone deserves a place to belong and I didn't want poor social skills to hold anyone back from friendship and community. Even if they struggle with social skills. It is possible to face anxiety and panic attack at the same time. It may be difficult to tell if what you are meeting is one or the other. When we change our emotional state from pain and confusion to well-being and a feeling of security, we feel better, think more clearly, and interact better with others. The healing power of the vagus nerve removes negative feelings that block our true potential. You will address common psychological problems through the vagal theory, including anxiety, panic, phobias, obsessive-compulsive disorder, bipolar disorder, and post-traumatic stress disorder, as well as autism, ADHD, and more.
Feel Free to contact me for book requests, informations or feedbacks.
Without You And Your Support We Can't Continue
Thanks For Buying Premium From My Links For Support