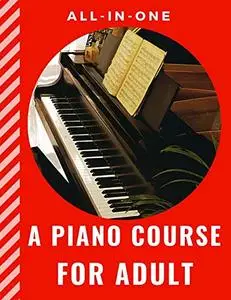 A PIANO COURSE FOR ADULT All-in-One: How to Play Piano with Lesson, Theory and Technic by Hakim El yamri
English | 2021 | ISBN: N/A | ASIN: B08Z5QZWL8 | 145 pages | PDF | 8.43 Mb
A PIANO COURSE FOR ADULT All-in-One Course , is designed for the beginner looking for a truly complete piano course that includes lesson, theory, technic and popular repertoire in
one convenient, all-in-one book. This course has a number of features that make it particularly successful in achieving this goal.
1. lt progresses very smoothly, leaving no gaps that might cause the student to skip difficult sections.
2. Because it teaches chord-playing in both hands, songs are more musical, and playing becomes a richer, more rewarding experience.
3. Also taught is the understanding of how chords are formed. lnstead of memorizing chords, students learn how to derive them regardless of what key they are playing in.
4. The choice of song material is outstanding, with some popular and familiar favorites mixed with tuneful originals, all adding to the fun and enjoyment of making music.
5. For the first time, an adult course has combined Lesson, Theory and Technic sections within one book. This combined approach offers beginners a unified course of instruction.
Feel Free to contact me for book requests, informations or feedbacks.
Without You And Your Support We Can't Continue
Thanks For Buying Premium From My Links For Support