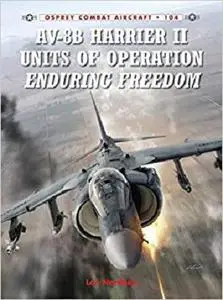 AV-8B Harrier II Units of Operation Enduring Freedom (Combat Aircraft) by Lon Nordeen, Jim Laurier
English | July 22, 2014 | ISBN: 1782003444 | 96 pages | PDF | 3.51 Mb
This book is the third of three volumes on US Marine Corps Harrier IIs in combat, and it is the first volume in print to cover the whole story of the AV-8B's service employment during peacekeeping operations and then in Afghanistan.
In the 1970s the USMC bought the AV-8A Harrier from the UK to test V/STOL (vertical and/or short take-off and landing) concepts for close air support. A successful funding battle was subsequently fought in the 1980s to secure military, political, and economic support to expand this concept to develop and field the second generation AV-8B Harrier II from the late 1980s onward. The AV-8B was, and still is, the only tactical aircraft that could deploy with Marine forces on amphibious assault ships and provide air cover and close air support separate from large deck aircraft carriers. Having seen action in-theater during Operation Desert Storm in 1991, the Harrier II was heavily involved in peacekeeping operations in Balkans in the 1990s, as well as in Africa from 1992 to 2002. From late 2001, the jet took part in the 'War on Terror" during the early phase of Operation Enduring Freedom in Afghanistan. Units equipped with the aircraft initially flew from amphibious assault ships off the Pakistani coast, before becoming land-based in-theater from early 2002 following the occupation of Afghanistan by Coalition troops. Harrier II squadrons have maintained a presence in-theatre supporting anti-Taliban and al-Qaeda operations ever since.
Feel Free to contact me for book requests, informations or feedbacks.
Without You And Your Support We Can't Continue
Thanks For Buying Premium From My Links For Support