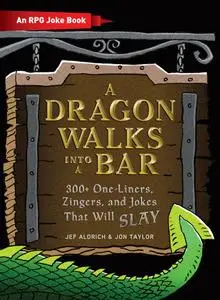 A Dragon Walks Into a Bar: An RPG Joke Book by Jef Aldrich, Jon Taylor
English | December 3rd, 2019 | ISBN: 1507212186 | 208 pages | EPUB | 6.72 MB
This hilarious collection of over 300 puns, one-liners, and classic jokes dedicated to the fun of RPGs is perfect for you share with your fellow gaming compatriots!
Why don't dragons like to eat paladins?
They taste lawful.
Laugh out loud at over 300 zingy one-liners and eye-rolling puns with this collection of tabletop-based humor, dedicated to the fun of RPGs like Dungeons and Dragons, Pathfinder, and more!
A Dragon Walks into a Bar gives you hours of funny content that will keep you smiling. Whether you use them as inspiration for your level 20 comedian bard to crack wise during battle or if you just want a giggle in between turns, this book has everything you've been looking for.
Enjoy
My Blog
. No any convert or low quality!