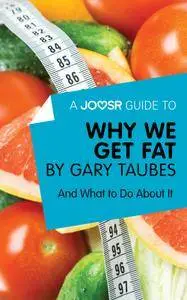 A Joosr Guide to… Why We Get Fat by Gary Taubes: And What to Do About It by Joosr
English | January 25th, 2016 | ASIN: B01BC1GTAK, ISBN: 1785672185 | 27 pages | EPUB | 0.36 MB
In today's fast-paced world, it's tough to find the time to read. But with Joosr guides, you can get the key insights from bestselling non-fiction titles in less than 20 minutes. Whether you want to gain knowledge on the go or find the books you'll love, Joosr's brief and accessible eBook summaries fit into your life. Find out more at joosr.com.
What is it that causes people to get fat even when they are counting calories and exercising? Discover the real cause of obesity that contradicts conventional health advice-and how you can eliminate it from your life for good to become lean and healthy.
Why We Get Fat is a look into the modern western diet, and how one food group, traditionally touted as 'healthy', is actually contributing to the worldwide obesity epidemic. It discusses the common misconceptions about diet that cause people around the world to avoid the best foods while choosing the worst, and provides an alternative, more effective method for dieters to slim down and get more energy. Choosing the right menu options makes all the difference.
You will learn:
• Why calorie-counting is completely useless
• Why fatty foods are not the enemy
• What foods you should be eating to keep fat at bay.