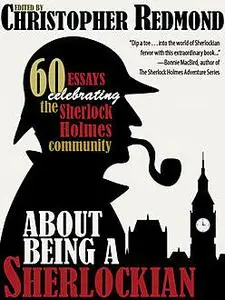 «About Being a Sherlockian» by Christopher Redmond
English | EPUB | 0.1 MB
Who is a Sherlockian? And how does one join the ranks of Sherlockians?
In "About Being a Sherlockian," sixty essays explore what it is to be a Sherlockian and celebrate the enduring friendships created. From collecting to chronology, from cosplay to cons, from quasi-historical interpretations to pastiches and fan-fiction, the umbrella of Being a Sherlockian covers a myriad of interests and enthusiasms.
Editor Christopher Redmond says: "Perhaps most of the readers will be those who are already Sherlockians, but if the book should fall into the hands of someone who is not, I think it will give a very appealing picture of the endless riches to be found in What It Is We Do."
"Dip a toe, or even a whole foot into the world of Sherlockian fervor with this extraordinary book which illuminates the life-changing benefits of deep involvement with Holmes, Watson and their world. Les Klinger made me 'come out' as a Sherlockian and my world is richer for it, as it is for the candid writers of this wonderful and surprising collection of essays." —Bonnie MacBird, author of "Art in the Blood" and "Unquiet Spirits"