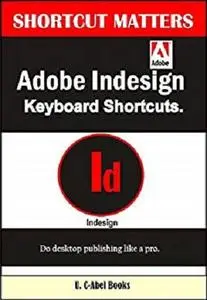 Adobe Indesign Keyboard Shortcuts (Shortcut Matters) (Volume 43) by U. C-Abel Books
English | February 7, 2017 | ISBN: 1543228127 | 80 pages | PDF | 0.80 MB
Designing creatively in InDesign requires you to make out time to read useful books and references like this one. It is not possible for anybody to become a professional in InDesign by sticking to old methods and styles of operation because you cannot be an expert in any field by doing only what you learnt at the beginner level. Create posters, flyers, brochures, magazines, newspapers, and books in a way they will attract appreciation from people that see them, and bring more clients to you through the information we have shared in this book.
These are the things you will find in this title:
Fundamental Knowledge of Keyboard Shortcuts:
Definition of Computer Keyboard
Ways To Improve In Your Typing Skill
Mouse
Definition Of Keyboard Shortcuts
Why You Should Use Shortcuts: Ways To Become A Lover Of Shortcuts, How To Learn New Shortcut Keys, Your Reward For Knowing Shortcut Keys, Why We Emphasize On The Use of Shortcuts.
15 (Fifteen) Special Keyboard Shortcuts.
Default keyboard shortcuts in Adobe InDesign: Keys for Tools, Keys for Selecting and Moving Objects, Keys for Transforming Objects, Keys for Editing Paths and Frames, Keys for Tables, Keys for Finding and Changing Text, Keys for Working with Type, Keys for Navigating Through and Selecting Text, Keys for viewing documents and document workspaces, Keys for Working with XML, Keys for Indexing, Keys for Panels, Keys for the Control Panel, Keys for Type Panels and Dialog Boxes, Keys for the Character and Paragraph Styles, Keys for the Tabs Panel, Keys for the Layers Panel, Keys for the Pages Panel, Keys for the Color Panel, Keys for using the Separations Preview Panel, Keys for the Swatches Panel, Keys for the Transform Panel, Keys for Resolving Conflicts between Mac OS 10.3x and 10.4
When you learn and use keyboard shortcuts and tips in this book correctly, you may contact us for a testimonial space on our site because of the positive changes you will see in productivity.