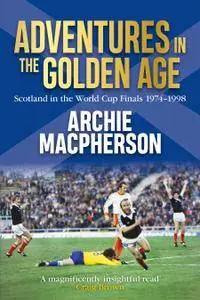 Adventures in the Golden Age: Scotland in the World Cup Finals 1974-1998 by Archie Macpherson
English | May 3rd, 2018 | ASIN: B079YMR25J, ISBN: 1785301918 | 256 Pages | EPUB | 1.51 MB
As Scotland attempt to qualify for their first World Cup Finals for 20 years, very few football fans around the country are booking their tickets for Russia 2018 just yet. Qualification has never been easy, of course, as the many memorable and nail-biting nights through the years have shown.
But in Scotland's purple patch between 1974 and 1998, Archie Macpherson commentated on all 18 of Scotland's World Cup matches, and now his Adventures in the Golden Era tells the tales of what really went on both on the pitch and behind the scenes at the greatest tournament on earth.
Between the 1974 clash with Zaire and the 3-0 defeat against Morocco in 1998, there were adventures against Iran, Peru, Costa Rica, Brazil and many others. And throughout it all, Archie was the voice of Scottish football, bringing to life the highs of Archie Gemmell's genius against Holland and the lows of Cubillas' spectacular goals for Peru. He knew the players, the managers and many of the fans through this halcyon time and saw bungs in brown envelopes, internal wrangling at the BBC and the drunken antics of many of the best-known names in Scottish football.
So whether or not Scotland qualify for Russia 2018, Archie Macpherson's World Cup adventures are a timely reminder of a golden era and a brilliantly entertaining read.