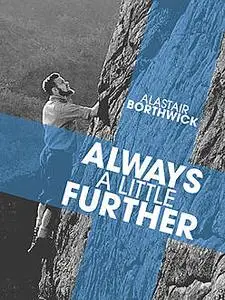 «Always a Little Further» by Alastair Borthwick
English | EPUB | 1.2 MB
Alastair Borthwick's classic tale of camping, hiking and climbing tells of the freedom and fellowship enjoyed by climbers in Scotland in the 1930s. His beautiful, vivid descriptions of the landscape are only rivalled by his colourfully drawn, highly entertaining cast of characters, all of whom are passionate about the outdoors and their place within it. Borthwick takes his reader — via road, campsite and bothy — from Arrochar to Glencoe; from the Cuillin to Lairig Ghru. Encounters with tramps, tinkers and hawkers, and of hitching to Ben Nevis in a lorry full of dead sheep, are all described in Borthwick's light-hearted style. He weaves a hilarious tale, aided by the eccentric folk he meets, and this light-hearted read continues to delight, decades after it was first published. Always A Little Further is essential reading for any climber, or indeed anyone, who longs to be transported from the mundane day to day to the wilds of Scotland.