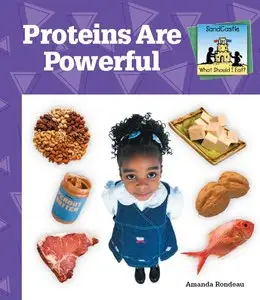 Amanda Rondeau - Proteins Are Powerful
SandCastle | 2002 | ISBN: 1577658361 | Pages: 23 | PDF | 1.38 MB
This series emphasizes the importance of eating a variety of foods and being active to help your body grow, stay strong and be healthy.
* Content-rich, informational and fun to read
* Highlighted content and supporting visuals strengthen reading and comprehension skills and strategies
* Provides a moderate level of text support with engaging, full-page photographs
* Uses greater variety of vocabulary including more multisyllable words
* Includes index and glossary
* Designed to use for guided, shared and independent reading
Thanks to original uploader!

Do you know only a small part of all books is visible on the AvaxHome Homepage (@ Home)?
To see all of them use
eBooks
category.
If you enjoy my books look at my
…::No mirrors, please::…