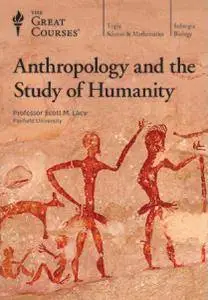 Anthropology and the Study of Humanity
HDRips | MP4/AVC, ~696 kb/s | 640x360 | Duration: 12:00:37 | English: AAC, 161 kb/s (2 ch) | + PDF Book
Size: 4.41 GB | Genre: History
What does it mean to be human? Where did we come from? And what unites us in our diversity today? As the world population continues to explode, these big questions about humanity become increasingly important, and anthropology is the field of study that tackles them. From our tree-dwelling primate ancestors 63 million years ago through today's globally connected citizens, anthropology looks at Homo sapiens to find out why we are the way we are.
Because anthropology is such an interdisciplinary field, many Great Courses have touched on it from different angles. Now for the first time, we are pleased to offer a comprehensive survey of this fascinating topic. Anthropology and the Study of Humanity is your chance to gain a complete understanding of one of the world's most engaging — and human — sciences. Taught by acclaimed professor and field researcher Scott M. Lacy of Fairfield University, these 24 wide-ranging lectures are the ideal guide through the world of anthropology.
"Put simply, anthropology is the study of humankind over time and space," Professor Lacy says in the course introduction. "And I promise, if I were to get any more specific than that, we'd be chopping off specialized branches of our disciplinary tree."
As a field of study, anthropology covers a lot of ground, from the language of primates to bones found in a desert to modern-day war zones. A survey of the field encompasses elements of history, biology, archaeology, linguistics, sociology, and cultural studies. It also involves data analyses, population modeling, urban development, economics, medicine, forensics, sexuality, art, and much, much more. Anything and everything that relates to humanity, anthropology approaches, demonstrating the common threads across world cultures and revealing the underlying connections that unite us all.
In Anthropology and the Study of Humanity, Professor Lacy gives you an elegant blend of theory and application to help you understand this extraordinarily interdisciplinary field as a whole. You will examine how humans evolved and built civilizations, review humanity's changing attitudes about our relationship to the cosmos, and consider the many ways we express ourselves. In the end, what you'll discover is that while our species is rich with diversity, we are much more similar than we are different.
A History of British India
Classics of British Literature
Doctors: The History of Scientific Medicine Revealed Through Biography
Dark Matter, Dark Energy The Dark Side of the Universe
Darwinian Revolution
Dead Sea Scrolls
Development Of European Civilization
Discrete Mathematics
Early Christianity the Experience of the Divine
Era Of The Crusades
Essentials of Strength Training
Exploring the Roots of Religion
Fall of the Pagans
Famous Greeks
From Yao to Mao 5000 Years of Chinese History
Cosmology: The History and Nature of Our Universe
History of the English Language, 2nd Edition
Victorian Britain
Art of the Northern Renaissance
From Plato to Post-modernism: Understanding the Essence of Literature and the Role of the Author
Welcome to the best eLearning video (English, German, French, Spanish language) and many more:
LINK
Do not forget to check my blog! Updated regularly! Add in bookmarks my blog :)
PM me if Links not working!
No mirrors pls!