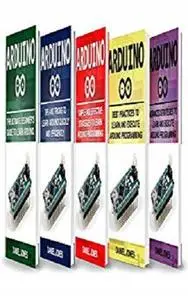 Arduino books: 5 Books in 1- Beginner's Guide+ Tips and Tricks+ Simple and Effective strategies+ Best practices & Advanced strategies by Daniel Jones
English | January 7, 2018 | ASIN: B078VZKBG5 | 350 pages | AZW3 | 5.63 MB
Arduino boards are used when it comes to building digital devices and other interactive objects that have the ability to control things in the physical world around you and this book will teach you the best practices to learn and execute Arduino programming.
Some of the things you will learn are:
 Arduino's software and hardware and several of the applications that you are going to be able to use with an Arduino board.
The data types you will find in Arduino
Control declarations and loops
Functions and Strings
Arrays and sensors
Important things to remember so that you do not have to worry about possibly making a mistake
And so much more!
This 5 books bundle is full of useful information that will guide you throughout your Arduino programming journey, so what are you waiting for? Grab a copy now!