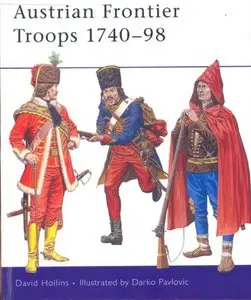 Austrian Frontier Troops, 1740-98 (Men-at-arms 413) By Dave Hollins, Darko Pavlovic
Publisher: Os Publishing 2005 | 48 Pages | ISBN: 1841767018 | PDF | 17 MB
During the War of the Austrian Succession and the Seven Years' War, the Austrian empire's eastern frontiers were guarded against the Turks by a savage and colourful militia. When posted west to join the Austrian field armies as light infantry in conventional campaigns, their exploits were legendary. Notoriously, they captured Frederick the Great's treasure chest at the battle of Hohenfriedburg (1745). The corps included sharpshooters, cavalry scouts, gunners, and crews of armed river boats, all of which are studied here, with attention to uniforms, weaponry and fighting styles. Their colourful costumes - from barbaric Balkan bandit gear to the more formal Austrian Line uniforms - are all described and illustrated. After graduating from University College London, Dave Hollins trained as a maritime solicitor and began a career in commercial shipping. He is a frequent contributor to specialist Napoleonic magazines and has written a number of books related to the Imperial Army and Archduke Charles. Darko Pavlovic lives and works in Zagreb, Croatia. A trained architect, he is now a full-time illustrator and writer, specialising in militaria. Darko written and illustrated titles for the Men-at-Arms series on the Austrian army of the 19th century.
NO PASSWORD


!!!No Mirrors below, please! Follow Rules!