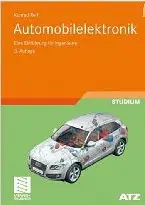 Konrad Reif "Automobil Elektronik"
Vieweg | 2007 | ISBN-10 3834804460 | German | 370p| 6mb | PDF | RS.COM
This is one of the best Book on the electronics basics pertaining to Automobiles.
An understanding of vehicle electrical and electronic systems is core knowledge for every motor vehicle professional. This classic text ensures that students and practicing engineers alike keep abreast of advancing technology. The new edition includes updated and new material throughout, covering recent developments such as microelectronic systems, testing equipment, engine management systems and car entertainment and comfort systems.
Covers all automobile electrical systems from ignition to in-car entertainment All the latest automotive electronics developments Extensively illustrated throughout, with over 600 diagrams and figures New self-assessment material including multiple-choice questions on each of the key topics. This new edition will continue to be the book of choice for many students and will undoubtedly serve as a valuable reference book for professionals in the electrical and electronic systems fields.
<<<– No More RS Mirrors please –>>>.