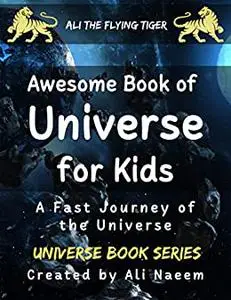 Awesome Book of Universe for kids: A Fast Journey of the Universe by Ali Naeem
English | December 12, 2022 | ISBN: N/A | ASIN: B0BQ17CYJ5 | 70 pages | EPUB | 31 Mb
Sweet Kids! Do you know what is Universe, Stars, Planets, Galaxies, etc? If not then don't worry we are going to travel the Whole Universe. If you know already, you can also enjoy animated pictures of Universe Objects.In this book, you will Study and see animated pictures of the Universe, Astronomy, the Big Bang, Gravity, Stars, the Solar System, the Sun, the Moon, Planets, Solar System Planets, Exoplanets, Dwarf Planets, Galaxy, Types of Galaxies, Milky Way, Meteoroids, Meteorites, Meteors, Comets, Asteroids, Nebula, Supernova, Black Hole, Quasars, Dark Energy, Dark Matter, Death of a Star, Light Year, Spaceship, Satellite.
30 Different Topics.
Awesome Animated Images.
Full Premium Colors with Awesome Background.
Everything is Written in Plain English Language.
For 2nd-8th Grade Kids, aged 5-14 Years.
Adults can also read it if they want to take Introduction to Astronomy or Universe.
This Universe Book Series Will teach you universe Secrets in plain English Language for kids.
Feel Free to contact me for book requests, informations or feedbacks.
Without You And Your Support We Can't Continue
Thanks For Buying Premium From My Links For Support