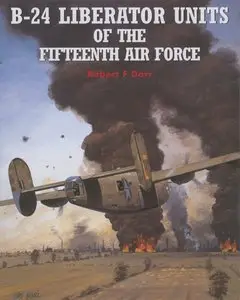 B-24 Liberator Units of the Fifteenth Air Force (Combat Aircraft 21) By Robert F. Dorr
Publisher: Os Publishing 2001 | 96 Pages | ISBN: 1841760811 | PDF | 22 MB
The B-24 was heavily utilised in the North African and Mediterranean theatres by the USAAF's Fifteenth Air Force, with operations over the Ploesti oilfields in Rumania being some of the most famous missions undertaken by the big American 'heavy' in World War 2. The stirling work of the Fifteenth Air Force is often overshadowed by the glamorous 'Mighty Eighth', yet the men flying the B-24 fought ceaselessly right through to VE Day. This is the third of five titles planned to chart the operational history of the Consolidated heavy bomber, and is the first single volume to exclusively cover the Fifteenth Air Force's B-24 units. This title relates the experiences of the crews who flew the "heavy" of World War II, and of the aircraft itself. Robert F Dorr is a well respected author of long-standing reputation - he has written over a dozen books over the years. His histories on modern American combat aircraft like the F-101 Voodoo and A-6 Intruder have set the standard for works of this type. His ability to combine 'crew speak' with concise editorial comment gives his books a unique and revealing style of their own. Mark Styling has illustrated several books in both the Aces and Combat Aircraft series.
NO PASSWORD


!!!No Mirrors below, please! Follow Rules!