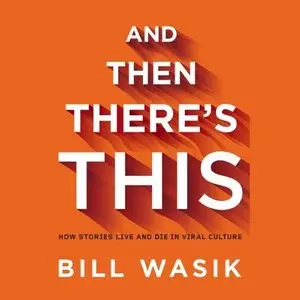 And Then There's This: How Stories Live and Die in Viral Culture (Audiobook) By Bill Wasik, read by author
Publisher: Pen.,.guin Audiob..ooks 2009 | 5 hours and 33 mins | ISBN: n/a , ASIN: B002CYE9P4 | MP3 | 142 MB
An entertaining and eye-opening look into the new frontier of idea making - breaking news, fresh gossip, tiny scandals, trumped up crises - every day we are distracted by a culture that rings our doorbell and then runs away. Stories spread wildly and die out in mere days, quickly replaced by more stories with ever shorter shelflives. How we participate in these stories has changed, too. No longer do we sit on the sidelines waiting for monolithic media giants to tell us what's happening. Anyone on a computer in his or her local Starbucks can spread a story almost as easily as The New York Times, CNN, or People - in fact blogs are now often the source for journalists working in big media. And Then There's This is Bill Wasik's journey along the unexplored frontier of our churning and rambunctious viral culture. Covering this world - watching new bands promote themselves at South by Southwest; reporting on a website contest while secretly entering it; and creating a site that aggregates all blog smears against the presidential primary candidates - he ends up conducting six experiments himself. He doesn't always get the results he expected, but along the way he meets a cast of characters who are capable of getting their information into our brains - and they're not who you think. And Then There's This reveals how our culture is now created from the ground up. Wasik proves that any one of us can cause a small ripple that can turn into a tsunami. Anyone involved in journalism, business, or information technology - and those who want to be - must read this book. And for the rest, Wasik's tour is great, eye-opening fun.
!!!No Mirrors below, please! Follow Rules!