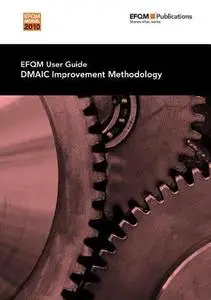 EFQM User Guide - DMAIC Improvement Methodology by EFQM
English | January 18, 2012 | ASIN: B006ZJ65UY | 37 pages | mobi | 0.602 Mb
We all come across problems within our working environment. The temptation is to immediately move into "solution mode" before we really understand what's causing the problem we're observing.
DMAIC is a structured approach for problem solving. It is often used in Six Sigma or Lean approaches to define the stages of a project. It provides a framework for understanding the root causes of a problem and then developing appropriate solutions to eliminate them.
The DMAIC approach itself can be used both within and outside these techniques. It is scalable and can be used to tackle a range of different problems, from relatively simple to highly complex.
What is DMAIC?
DMAIC is an acronym for the 5 key phases in an improvement project:
Define: this is a statement that describes the desired outcome; the result you want to achieve.
Measure: this phase describes the current situation, in terms of the current process and performance.
Analyse: during this phase you analyse the information available to identify the root cause and possible solutions.
Improve: during this phase you implement the improvement you have selected.
Check: finally, you check whether you have achieved the desired outcome, as defined in the first phase.
DMAIC & RADAR
There is a clear alignment between the DMAIC approach and the RADAR, although the RADAR is an ongoing cycle which looks at continually improving and refining approaches over time. The DMAIC approach is for a single improvement cycle.