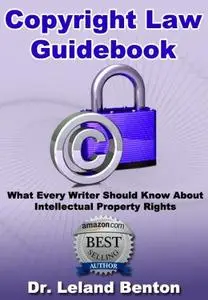 Copyright Law Guidebook: Professional & Technical by Dr. Leland Benton
English | February 17, 2013 | ASIN: B00BHEYBK8 | 156 pages | AZW3 | 0.351 Mb
Professional & Technical - Copyright Law Guidebook is a complete compendium for authors and writers of written content as well as any creative person desiring to have their work protected under copyright law. It covers copyright, copyright law in a nutshell, Professional & Technical Patent, Trademark & Copyright, intellectual property, intellectual property rights, what are intellectual property rights, and intellectual property law. Copyright Law Guidebook is part of Dr. Leland Benton's ePublishing series of books and is designed to assist authors with immediate questions regarding all aspects of self-publishing. Dr. Benton is the Editor-in-Chief of ePubWealth, a leading full service publishing house based in the United States. The laws regarding copyrights extend internationally to include only the countries that are signatory to the Berne Convention and only these countries. There is no such thing as International copyright protection. Authors make common mistakes regarding copyright law not only for the protection of their own work but also when using other author's information. The Copyright Law Guidebook is designed to assist authors in getting the proper information quickly.